Most spiders you find in and around your home are not harmful. On the contrary, they're scared of you. A spider can live out its entire lifespan in your home and you'll never see it. They are content with keeping their distance and minding their business. They'll run away and get away from you if you get too close. But this seemingly docile and peaceful association can quickly deteriorate if you disturb or try to handle them.
While spiders are scared of humans, most of us dislike and on some occasions fear them, hence the term Arachnophobia. Arachnophobia is the fancy term to describe the pathological fear or loathing of spiders. And with good reason, you see other spiders are venomous. A good example is the Black Widow Spider. It is among the most venomous spiders on Earth.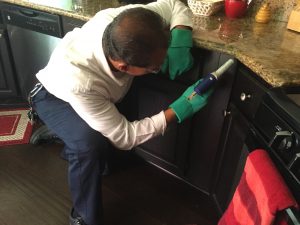 Controlling Spiders
Spiders may not be sociable or numerous enough to develop an infestation, but there are reasons you'll want to totally eliminate them. We are not adapted to living with spiders and will want to keep it that way
Seal off Entry Points
Most spiders are tiny enough to use the smallest of cracks to come into your home. Tiny cracks and crevices in and around your windows, doors, and walls make ideal entry points for spiders. When you locate these points, seal them off with a caulk gun or any other appropriate sealant. If you notice cracks and cracks in the window and door glass, you should replace these glasses as soon as possible.
Practice Home Sanitation
Spiders spin their website around furniture that is rarely moved. That's why the bulk of spider web in a house will most likely be found in basements or other storage areas in a home. Get rid of trash and items that are rarely used or moved. What you want to do is ensure there are fewer items that aren't frequently used in your home. Spiders are predators, feeding off other insects. Cleaning your home daily makes it less desirable for these insects. They'll be forced to seek for food source elsewhere consequently taking spiders away from your home.
Actively Seeking Them Out
Look for spiders in dark places, spaces in between furniture, under tables, chairs, basically anywhere there's the possibility of finding webs. When you locate them, you might also find some spider eggs. Using a gloved hand, clear the web along with the eggs. A vacuum cleaner can be used for this purpose if the idea of touching the webs grosses you out.
Just remember that controlling the population of other insects, in turn, controls the spiders.
Power Line Pest Control
Feel free to reach out to us for all your pest control needs. We are excellent at exterminating pest so you can have a safe and healthy home – one you deserve. We make sure your home is yours and yours alone. Power Line Pest is a leading provider of pest control. We serve these California cities:
Power Line Pest Control
Feel free to reach out to us for all your pest control needs. We are excellent at exterminating pest so you can have a safe and healthy home – one you deserve. We make sure your home is yours and yours alone. Power Line Pest is a leading provider of pest control. We serve these California cities:
• Menifee
• Murrieta
• Lake Elsinore
• Temecula
• Winchester